By an overwhelming ratio of 6-to-1, nurses working at Inspira Medical Center Woodbury in New Jersey voted Oct. 1 in favor of union representation by Health Professionals and Allied Employees (HPAE), an AFT affiliate.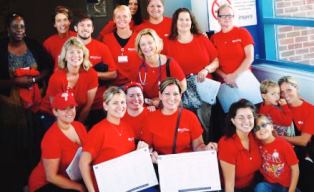 "We are excited about winning our union and look forward to working together with administration for the benefit of our hospital, our professional practice and our patients," says Kellianne Eyler, a perioperative services nurse who has worked at the hospital for nine years. "As Florence Nightingale once said, 'Were there none who were discontented with what they have, the world would never reach anything better.' The nurses here joined together to change to provide the care our patients and our community need and deserve."
The election was scheduled after more than 75 percent of the 420 registered nurses at Inspira Medical Center Woodbury signed a petition seeking to join HPAE. The nurses at other Inspira hospitals in New Jersey— Bridgeton, Elmer and Vineland—joined HPAE in 2006. The Woodbury facility merged with Inspira Health Network in 2012; since then, there has been growing interest among the nurses to join HPAE to improve patient care at the hospital.
"As nurses, we organized so that we could add our voices to those of the nurses in the Inspira system and advocate for patient care, safe staffing and workplace standards; policies that recruit and retain qualified and experienced nurses; and protection of hospital services for our communities," says Mary Lou Marino, a progressive care unit nurse who has worked at the hospital for five years. "The support we received from the community, our elected officials and other HPAE nurses was instrumental in winning our union."
During the campaign, nurses enlisted support from elected officials, labor and community leaders.
"The nurses are ready to sit down and bargain a contract that meets the needs of the patients they serve, and we expect the hospital will do the same," says HPAE President Ann Twomey, who is an AFT vice president.
Following the election results, the National Labor Relations Board will certify HPAE as the legal bargaining representative, obligating hospital administration to bargain a contract with the union.
[Health Professionals and Allied Employees press release]