In cities across the country, AFT members and leaders took part in events on May 17 marking the 60th anniversary of the landmark Brown v. Board of Education Supreme Court decision that desegregated public schools.
AFT President Randi Weingarten participated in events in Topeka, Kan., the city where the Brown case originated. Events included a rally, where Weingarten spoke, as well as a march of hundreds of civil rights leaders, teachers, parents and students from the Brown v. Board of Education historic museum in Topeka to the rally at the state Capitol.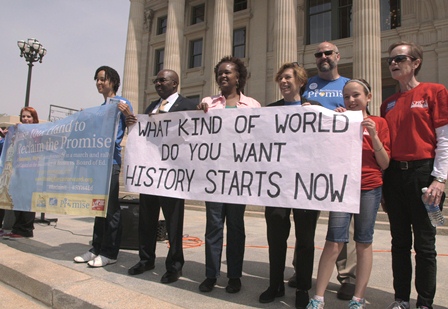 "The decision 60 years ago was a moral and legal imperative, but today we have segregated schools based on poverty," Weingarten said. "The legacy of Brown v. Board of Education is to create the opportunities in our public schools so that all kids, of all races and income levels, can succeed.
"Today's moral imperative is to give our kids a great public education system by fixing—not closing—neighborhood public schools," she noted. "All kids need safe, welcoming neighborhood schools that offer an engaging, well-rounded curriculum that includes art and music, expanded early childhood education programs, resources and support for teachers, and wraparound services provided in schools to help disadvantaged kids and families overcome the effects of poverty."
Parents, teachers, students and community members staged other activities in cities across the country, including Boston; Chicago; Detroit; Newark, N.J.; Philadelphia, Pittsburgh and St. Paul, Minn.
The 60th anniversary commemorations attracted widespread press coverage, with dozens of stories in print, on TV and radio, and online. Weingarten and other AFT leaders also used the occasion to push the union's broader message about the need for more aggressive approaches to overcome income inequality in education. Unfortunately, those approaches are being thwarted by elected officials' insistence on mass school closings, austerity budgets that starve public schools, ineffective privatization alternatives, discipline policies that increase the school-to-prison pipeline and a fixation on testing.
Among the AFT columns:
In addition, the AFT ran radio and print ads to mark the anniversary.
[Dan Gursky, AFT press release/AFT photo]