From the beginning of schooling, children from various socio-economic groups differ greatly in their vocabulary knowledge. Those from high-income families tend to know many more words than those from low-income ones. In the cover story of the Summer 2014 issue of American Educator, Susan B. Neuman and Tanya S. Wright examine the research showing that certain practices for teaching vocabulary, such as making connections among words and repeatedly exposing students to content-related words, can accelerate young children's oral vocabulary development, regardless of family income.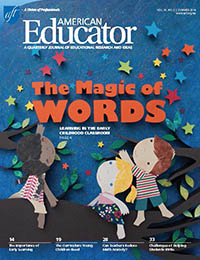 Three other articles in the new issue also discuss the importance of early learning. The first contends that because learning gaps appear early, strengthening early childhood education by building a rigorous curriculum to develop students' knowledge and vocabulary is imperative. The second offers Core Knowledge Language Arts as an example of a child-friendly, content-rich language arts program for preschool through third grade that can help teachers begin to build the broad academic knowledge and vocabulary all children need. The third examines the history of the standard elementary school curriculum and how for decades it's shortchanged students by prioritizing reading and math at the expense of history, science, literature and art.
The new issue also includes an "Ask the Cognitive Scientist" column on the problem of math anxiety. Although math makes some students anxious, research shows that teachers can rely on a few techniques to help those whose nervousness impedes understanding.
The magazine concludes with an article by a longtime English teacher who reflects on various aspects of student writing, such as correcting common mistakes and supporting students in facing the blank page.
The complete issue is available online.
[Jennifer Dubin]