A major policy focus, teacher evaluation is currently the primary tool promoted to improve teaching quality. But evaluation alone is not enough. In the cover story of the Spring 2014 issue of American Educator, Linda Darling-Hammond explains that what will most transform teaching quality—and the profession—is the creation of a larger system that focuses on a collective perspective by supporting teaching and learning through on-the-job evaluation and professional development.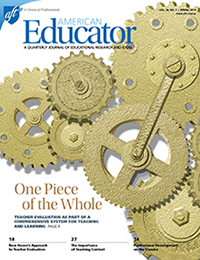 Building on that article are three others. The first discusses how school systems can use a survey-based approach to make teacher voice integral in shaping teacher evaluation and providing the necessary supports. The second, written by David Cicarella, president of the New Haven Federation of Teachers, tells how his members worked with school district officials to create an evaluation system focused on supporting struggling teachers and helping those already strong continue to improve. The third explores the mind shift necessary in rethinking the purpose of evaluation. Those engaged in designing and implementing effective evaluation systems must agree on critical components, such as defining good teaching, as well as avoiding common missteps, such as excluding educators from the work.
The new issue also includes an article by a former teacher in the United Kingdom who debunks the myth that teaching facts prevents understanding and explains why teaching content knowledge is part of the primary mission of education.
The magazine concludes with an article about an annual summer program in Dallas that provides teachers from across grade levels and disciplines a professional development opportunity to study literary classics.
The complete issue is available online.
[Jennifer Dubin]