There's no question, anyone who works with children would love to have free books to give to them at the end of the day. But not everyone knows that such free books are available.
That's where AFT members come in: Using a phone bank and other organizing tools, support staff at the Oregon School Employees Association's Centennial Chapter 113 spent months recruiting 2,000 classified employees, teachers and social service employees to sign up for First Book, a national nonprofit dedicated to putting books in the hands of children who need them most. The sign-up effort qualified the district for the distribution of a truckload of more than 40,000 children's books.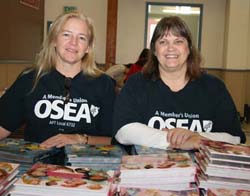 Once members met that milestone, they kept working to find volunteers to do the heavy lifting: unloading and sorting 26 carts packed with shrink-wrapped boxes of assorted books—from picture books to chapter books, nonfiction to fantasy, books about furry friends and sailing ships, dinosaurs and mice, and everything in between.
The sorting event alone involved not only the support staff who organized it, but also labor organizations, parents, teachers and neighbors—an entire community coming together to support literacy in public schools. Then, the distribution reached farther than most First Book events by embracing not only schools, but also a children's hospital, a food bank, an organization that provides clothing to families in need and a teen parenting program.
The team effort was led by Centennial Chapter 113 President Vicki Nelson (pictured above at left with vice president Melinda Wyffels). She and co-workers —along with numerous OSEA members in east Multnomah County—talked to peers, called classified employees in nearby districts and contacted social service agencies. Their countless volunteer hours paid off at the distribution event on Nov. 22, at Centennial Middle School. Among the participants were state Rep.-elect Carla Piluso, Northwest Oregon Labor Council Executive Secretary-Treasurer Bob Tackett, OSEA Zone II Director Jane Carlson, members from Ironworkers Local 29, and hundreds of educators and community members who signed up to take books back to children who need them.
"This event is the culmination of a dream that Vicki had since our annual OSEA conference last June," said Tim Stoelb, president of OSEA and an AFT vice president. "Her team wanted to do something for the less fortunate families in their community, and this event was just the ticket. The unselfish contributions they made led to a highly successful event that directly benefited the students and local charities in the community. I couldn't be more proud of their work."
This was the first time such an effort was spearheaded solely by school support staff.
"Today's event represents OSEA's largest First Book project," Carlson said. "We are proud of what Centennial and other OSEA members in east Multnomah County have been able to accomplish. This really shows the community coming together in the best interest of kids."
[Virginia Myers, OSEA/OSEA photo]