Suzanne Gordon believes that healthcare unions save lives. She became convinced of this during a recent hospital stay. Gordon recounted that experience to attendees at the AFT Nurses and Health Professionals Issues Conference and National Federation of Nurses Annual Labor Academy, held in Chicago, May 20-22. "As nurses and health professionals, your job is to keep patients safe. But the system makes it hard for you to do that unless you are in a union," said Gordon, an award-winning journalist and author, who focuses much of her work on patient safety and on encouraging better communications and teamwork in healthcare settings.
A little over a year ago, Gordon fell ill while on vacation in Vermont. She went to the nearest hospital where she was diagnosed with appendicitis and had surgery.
"I ended up with other problems that have changed my relationship with healthcare services. I never want to be in a hospital again, said Gordon.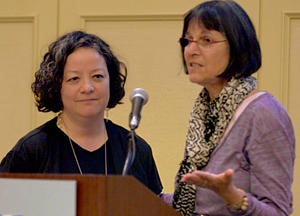 The nonunion nurses at the hospital where Gordon had been a patient didn't feel safe to speak up about certain conditions at their facility. That's when she began to connect her own experience to the importance of unionized hospitals. "It goes to show," she said, that even when nurses and health professionals have the best intentions when it comes to safety, "if they can't protect themselves or don't have a voice to speak out, it's hard to focus on patient safety."
"I had to say this to you, because maybe this would not have happened to me if I were in a union hospital where staff can speak up," said Gordon. "You need a union to not be afraid to advocate. In unions, workers are empowered to speak out and not just about working conditions, but about patient care. You have an argument to make to the public, because everything you do affects patients."
The sentiment resonated with Alice Leo, a member of the Porter Federation of Nurses and Health Professionals in Vermont, which recently became unionized. "I started working at my hospital in 1993. I saw things go downhill slowly. Staffing was terrible," she said, "but nurses were afraid to speak up before we organized. Now, there is a different relationship."
Stories like Leo's are stories people have to hear from you, Gordon told conference participants. "No one else can tell stories about how unions impact teamwork. Patient safety is just an aspiration unless you have the ability to make patients safe."
Gordon noted that there is a paradox when it comes to prevention. "What happens when you prevent a problem? Nothing. But in order for nothing to happen, something has to happen. If you don't talk about all the things you do to protect your patients, then nothing happens.
"I encourage you to educate America," she said, asking participants to commit to having conversations with 10 people outside of healthcare. "Help them understand what you do and how unionization helps you do your work," said Gordon. "Create a counternarrative to the negative attack stories that others put out there. Use your voices and narrate your experience. End this attack on one of the main things that makes this country strong." The attackers have the money, she said. "But you have the voices. Raise your voice and tell the truth. We can win this fight to create a better health system and a better democracy."
—Adrienne Coles
(Picture: Suzanne Gordon (r) makes the case for unionized healthcare workers by telling a personal story that nurse & Porter Hospital unit  President Alice Leo knows first hand. Photo Credit: Michael Campbell)