Students in Parkrose, Ore., will continue to ride district-owned school buses after the school board voted 3-2 on Feb. 24 against outsourcing student transportation. The plan to sell the school system's buses and contract out student transportation to the company First Student was proposed by Superintendent Karen Fischer Gray. But school board members voted against it after hearing from bus drivers and other community members who objected to the outsourcing.
Parkrose bus driver Steve Wilson says that when he worked for First Student, he faced the choice of going to work sick or going without pay, since First Student didn't offer sick days.
"I want to stay here," Wilson adds.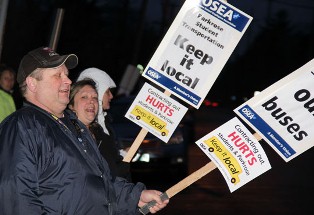 Before the meeting, a rally to keep student transportation local drew at least 70 people determined to preserve the bus system that has served Parkrose families for 90 years. Oregon AFL-CIO President Tom Chamberlain and Oregon School Employees Association (OSEA) Zone II Director Jane Carlson were among the speakers, and the union was instrumental in informing the community about the issue. Among its appeals was this ad supporting bus drivers. During the meeting, the board room was packed to capacity and additional supporters stood in the hallway for hours, waiting for the final vote.
"I choose to listen to our community, and our community is strongly in favor of [keeping our] school buses," said board member Erick Flores, who voted against outsourcing. "I choose community over profits."
Saying there were "no significant savings," board vice chair Thuy Tran compared the district to a human body: The board has chopped off fingers as budget cuts dictated, but jettisoning bus drivers was akin to losing a leg, she said. "I feel very strongly we need to keep the families we have, the body parts we have." Tran also stood up for bus drivers when she blasted claims from the district that drivers present a disproportionate share of personnel issues. "Is that an employee problem or is that a leadership problem?" Tran asked.
After the meeting, Parkrose Chapter 44 President Rick Doyle said the victory came down to two factors: School bus drivers are integral to the district's mission, and their supporters were willing to stand up for them. "[Bus drivers] are the first teacher of the day and the last teacher of the day as well," Doyle says. "People on the school board realized that was something we don't want to give up."
OSEA President Tim Stoelb says the anti-outsourcing campaign dovetails nicely with the AFT's Reclaiming the Promise initiative and its focus on maintaining high-quality public services for strong communities.
"One facet of that is making sure tax dollars are invested back into our communities and used responsibly," says Stoelb, an AFT vice president. "We are grateful that a majority of Parkrose school board members also saw this as a priority."
[Jason Cox-OSEA/Virginia Myers/OSEA photo]