In 1954, the U.S. Supreme Court decision Brown v. Board of Education held a promise of racial justice in public schools. But on the 60th anniversary of that ruling, the promise remains unfulfilled. Public schools are still separate and still unequal for many, including Jeanette Taylor, a youth development coordinator with the Kenwood Oakland Community Organization in Chicago.
Taylor traveled to Washington, D.C., on May 13 to join hundreds of parents, educators, students and community activists from Chicago, New Orleans, New York, Philadelphia and other cities for a rally to reclaim the promise of equitable education in the U.S. Held on an unseasonably hot day in front of the Supreme Court building, the rally was organized by the Alliance to Reclaim Our Schools, a national community-labor coalition that includes the AFT. The group is made up of parents, educators, union activists, youth and others who are standing up in the face of unprecedented attacks on public schools, jobs and civil rights.
"Chicago is one of the most segregated cities in the United States. The playing field is not level for our students," says Taylor, who has two children in the Chicago public school system. "I want to know why there is a two-tiered education system in this country and why bad policies like school closings, charter schools and turnaround schools are only happening in our neighborhoods."
Husin Talbot, an 11th-grader from Philadelphia, attended the rally with the Philadelphia Student Union, a student-led group focused on improving the city's schools. "I'm here to protest school budget cuts in Philadelphia. We just want our funding back," he said.
Sharron Snyder, also with the Philadelphia Student Union, told the crowd that her school is overcrowded, has a school nurse only two days a week and cannot provide basic necessities such as paper and textbooks. "We don't have the resources we need to succeed. We demand full funding of our schools and quality, affordable education for all, and we refuse to stop fighting for our right to a good education."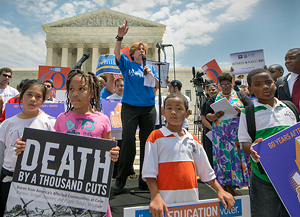 When AFT President Randi Weingarten took the stage, she called for several of the children in the crowd to join her there. "This is why we do what we do," said Weingarten as the children gathered around her. "As educators, the first image in our minds is these kids. Sixty years ago, Brown v. Board created access. Yet today, we still struggle with true equity. Sixty years later, we need to help ourselves to change the trajectory."
Today, she added, "change is being brought about not in a courtroom, but in our communities. There is a groundswell movement of teachers, parents, students and community members pushing for solutions that we know bring about equity—promoting early childhood education, expanding professional development opportunities, recruiting and retaining a diverse teacher corps, boosting parental involvement, shifting our discipline policies, curbing privatization and fixing, not closing, schools. Together, we are working to reclaim the promise of public education."
"The only way to improve our communities is to improve our schools," Kia Philpot Hinton, a member of Action United in Philadelphia, told the crowd. "Today's action is just the beginning of reclaiming the promise of education."
Following the rally, the crowd marched to the U.S. Department of Justice, where they called on U.S. Attorney General Eric Holder to meet with parents, students and educators who are being hurt by current education reforms.
The groups are planning to file several Title VI civil rights complaints with the Department of Education Office for Civil Rights and the Department of Justice detailing how students of color from Chicago, Newark, N.J., and New Orleans are disproportionately affected by school closures and charter expansions.
Other rally speakers included Judith Browne Dianis, co-director of the Advancement Project; Valarie Long, SEIU executive vice president; Myron Miller, a youth leader at VAYLA New Orleans; U.S. House Delegate Eleanor Holmes Norton (D-D.C.); and NEA President Dennis Van Roekel.
Share My Lesson has a collection of resources for teaching about Brown v. Board.
[Adrienne Coles/Alliance to Reclaim Our Schools press release/photos by Michael Campbell]