Tenure-track and nontenure-track faculty at the University of Illinois at Chicago have voted overwhelmingly to ratify a first contract that took almost two years to negotiate and that came after the faculty held a two-day strike in February. (See related story.)
That strike attracted national attention, both because it was the first in recent memory at a research institution, and because of the social justice issues it raised for the workers at the university and the primarily working- and middle-class students UIC is dedicated to serving. The faculty signaled that they were ready to strike again if the university continued to drag its feet.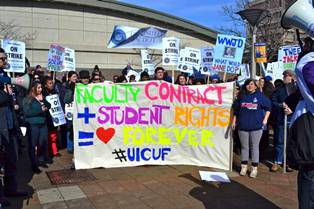 The contract, which applies retroactively for two years and extends through August 2015, increases faculty compensation, including a new minimum lecturer salary of $37,500. Previously, a lecturer with a Ph.D. who teaches a required writing course for all incoming freshmen earned only $30,000 a year. The contract also provides stability through a system of promotions for these lecturers.
Faculty will also receive support for professional development and a computer replacement program.
Faculty at UIC are represented by UIC United Faculty, a joint affiliate of the AFT, the Illinois Federation of Teachers and the American Association of University Professors. The union was first certified in 2011 as one unit of full-time tenure-track and nontenure-track faculty, but the university immediately appealed—the beginning of a relationship marked by stonewalling. In 2012, the Illinois Educational Labor Relations Board separated the faculty into two bargaining units—of 725 tenure-track and 425 nontenure-track faculty.
The separation of the one unit into two actually strengthened the resolve of the educators to be stronger together and to focus not just on a more fair compensation system for both tenured and nontenured faulty, but also on a greater voice for the nontenure-track faculty.
"We formed this union to give UIC faculty a collective voice and the protections we need to advocate for our school, our students and our members," says Joseph Persky, president of UIC United Faculty. "This agreement helps us do just that."
The contract was ratified by 98 percent of voting faculty and "reflects the faculty's solidarity throughout the bargaining process," says the union in a statement released after the April 25 vote count.
"I'm so proud of our dedicated UICUF members, who displayed incredible strength and solidarity again and again during this long fight," says Dan Montgomery, president of the Illinois Federation of Teachers and an AFT vice president. "Their successful efforts will ensure that UIC remains a world-class institution that attracts and retains top-tier faculty for its students."
"For two years, UIC United Faculty has been fighting for professional dignity and respect and to give their students what all college students deserve: reasonable class sizes, individualized instruction, support for cutting-edge research, and classrooms and labs that are safe and well-equipped. And its work has paid off," says AFT President Randi Weingarten. "This first contract includes big gains in professional working conditions—particularly for nontenure-track faculty. In the end, this historic contract is not just significant for faculty members, who have long suffered from low wages and adverse working conditions; it is also significant for the students and entire UIC community. That's the promise and possibility of collective bargaining."
This contract gave a voice in the process and a seat at the table to both tenure-track and contingent faculty," says Howard Bunsis, chair of the AAUP Collective Bargaining Congress. "That voice and that seat will demonstrate to students and the university community that everyone benefits when we work collectively."
[Barbara McKenna, IFT press release]