During the AFT's recent national convention in Los Angeles, AFT delegates unanimously approved an amendment to the AFT constitution to change the name of AFT Healthcare to AFT Nurses and Health Professionals.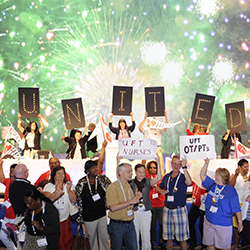 "We are honored to have a large group—35,000 nurses from the National Federation of Nurses—join with the AFT," said Candice Owley, chair of the healthcare division and an AFT vice president. "They remind us of the importance of a name. We made a commitment to elevate the role and the voice of the registered nurse—not just in the AFT, but in our country."
"Not only does this honor our new nurses and the respect that we have for this profession, but it also sends a message: There are over 2 million nurses in this country who are not in unions," Owley added. "We'd like to hope and believe that the AFT can be a beacon of hope for those nurses as we elevate our voice through our 1.6 million-member union."
Ann Twomey, also an AFT vice president, emphasized the importance of the name change. "We need to organize more nurses and more health professionals. We need to be very clear in defining who we are to the outside world. We are proud to be part of the AFT; but we also want the unorganized to know they can come to us, and we will help them gain their rights and improve their standards."
The AFT, which represents 112,000 nurses and other healthcare workers, is the second-largest nurses union in the nation.
[Adrienne Coles]